Guided tour through Zwolle
Perfect way to discover the city!
Reading time 4
1503 x Views
For visitors, but also for the real people of Zwolle, a tour through Zwolle* is the perfect way to get to know the Hanseatic city better. For example, go out with your partner and discover all the beautiful places Zwolle has to offer. Even if Zwolle is your home, you can learn more about the city with one of these tours!
City Walk through Zwolle
With over 320 monuments and numerous hidden stories, the history of Zwolle is present on every street corner. Set off with a guide and you will discover all these unique insights and secrets of the city. The city walks through Zwolle are developed to let you get acquainted with the real Zwolle. Walking through the city the guide will tell you all kinds of new and interesting facts which will make your visit to Zwolle complete.
There are also several city walks Zwolle with theme, including a Literary walk, Zwolle from the arts and Tour de Suolla. City walk Tour de Suolla has something of every theme: culture, art and history. Hotspots of Zwolle that will be covered during this tour are for example the Peperbus, the Sassenpoort and the Schepenzaal. In 2 hours the guide will take you along all the special and history-rich places and share his many talks about the Hanseatic city.
Round trip through the canals of Zwolle
Hanseatic city Zwolle has been surrounded by its characteristic star-shaped canal for more than 700 years. A canal tour through these canals is therefore a unique way to learn more about Zwolle! It's actually like a romantic gondola ride with your loved one in Venice, but in beautiful Zwolle. Come on board, sit back and admire the historic canal houses and let yourself be surprised by all the fun facts from the guide. Zwolle has all the culture, history and art you could want from such a special city!
Are you with a large group having a day out to Zwolle? Then book a group package including skipper and guide! Take snacks and drinks for the road and sail away.
Guided tour of Zwolle by bike
Another unique way to discover Zwolle is by bicycle. Fietsjoe is Zwolle's well-known bicycle cab and is highly recommended when it comes to sustainable and special tours of Zwolle. Get in the bicycle cab and in one hour you will be cycled along the highlights of Zwolle. Good stories about the city will of course not be lacking. Do you want to see special places and eat good food? Then choose the taste routes! During your city tour through Zwolle you will make several stops at specialty stores, where you can taste the most delicious products.
Would you rather be active yourself, then get on a bike! Zwolle is a real bicycle town. 50% of the trips within the city are made by bike and Zwolle is therefore the city with the highest bicycle use in the Netherlands! Choose for example for a bicycle tour from ErUit and combine the inner city with a trip to the IJssel or Vecht. This way you can see all the beauty in and around Zwolle! Tip: you can also make this bike tour with an e-bike.
A popular bicycle tour in Zwolle with theme is 'War in Zwolle'. This guided bike tour takes you along the traces of the Second World War in the center of Zwolle, suburbs and the surrounding area. An impressive experience with unforgettable stories...
Discovering the Zwolle of Herman Brood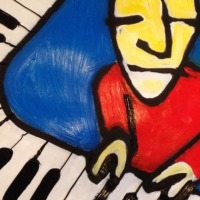 Finally, we would like to mention the Brood Walk through Zwolle. Did you know that artist Herman Brood is from Zwolle? The walk, organized by the Herman Brood Museum, will take you past all the places that were significant to Brood. This tour will take you to places in Zwolle that you might not have seen or noticed otherwise. This tour through Zwolle is a super fun and original activity to do together with your partner. Enjoy!