Lunch in Zwolle
Forest and nature Having lunch in Zwolle has never been so much fun because of the numerous options in the city. And this seems to be growing more and more. Whatever you're in the mood for and whatever your dietary requirements, Zwolle is the right place for a delicious lunch.
Delicious lunches in Zwolle
Because of the many possibilities to have lunch in Zwolle, there is something for everyone. Would you like to have lunch at the waterfront or are you looking for a sandwich store in the shopping street of Zwolle? Or would you just like to escape the crowds and have lunch outside the city? Even if you live in Zwolle and want a lunch to be delivered to your home, the Hanseatic city is the place to be.
Lunch in the surroundings of Zwolle
Are you in (the vicinity of) Zwolle but want to escape the city? Then have lunch in the surroundings of Zwolle. Also outside the city are plenty of options for lunch. For example, pay a visit to De Agnietenberg. The restaurant is located outside the city and has a beautiful garden. On a sunny day, the terrace overlooking the garden is a wonderful place to catch your breath.
Lunch in Zwolle on the waterfront
In Zwolle you can find beautiful canals, such as the Thorbeckegracht. Entrepreneurs create wonderful places to have lunch in Zwolle on the water. Take a seat on the spacious terrace in Zwolle of Brasserie De Hofvlietvilla. While you look out over the water and see all sorts of boats sail by, you can enjoy the specialties of the chefs at the Hofvlietvilla. Would you like to add a fun activity to your meal? Rent a boat at the Hofvlietvilla and discover Zwolle's canals.
Opposite the Hofvlietvilla you'll find Stadsstrand Zwolle. As soon as you plop down on the lounge chairs in the sand, you immediately get a vacation feeling. Around you are even palm trees. The extensive menu ensures that there is something for everyone. Take off your shoes, bury your feet in the sand and enjoy the vacation feeling during a delicious lunch in Zwolle!
Also at Bistro De Kwaak you can have lunch by the water in Zwolle. The attractive terrace on the water and the friendly staff make guests feel right at home. On a rainy day it is also possible to have lunch on the ship of Bistro De Kwaak. Not done yet after lunch in Zwolle? Feel free to linger for a good drink.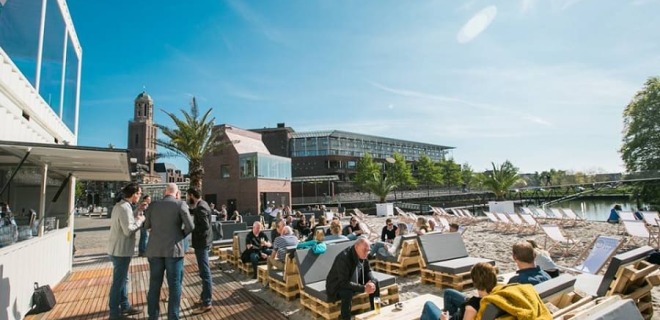 Nice lunchrooms in Zwolle
Zwolle has numerous lunchrooms where you can go for a tasty Zwolsche lunch. A popular lunchroom in Zwolle is At Hartje Zwolle. Do you ever suffer from choice stress? Bij Hartje Zwolle offers several small dishes, so you don't have to choose. You also choose the number of dishes you want to eat, so you can take into account the small or big appetite. Taste with your company all the goodies that are prepared for you.
Another great lunchroom in Zwolle is De Gillende Keukenmeiden. De Gillende Keukenmeiden is located just inside the canals. The attractive and colorful garden immediately makes you happy. Not to mention the friendly staff and fresh sandwiches. The ingredients are seasonal and mainly locally sourced. Therefore, the menu changes occasionally, but that is an extra reason to come back and try something new.
Lunch in Zwolle delivered
Is it a rainy day, are you broke or do you just feel like having a nice lunch at home? Luckily, you can have lunch delivered in Zwolle! Numerous entrepreneurs offer the opportunity to order something online or by phone, after which your chosen lunch is delivered to your home. For example, order fresh sandwiches with a glass of fresh orange juice or a complete lunch menu at Casa Zwolle.
Bagels & Beans also delivers a delicious lunch to your home. A vegetarian bagel, a bagel with meat or a bagel with fish: you've come to the right place. Or choose a sweet bagel with banana and maple syrup. Lunch in Zwolle couldn't be easier!
Sandwich store Zwolle
You just read that Casa Zwolle delicious lunch dishes delivered to your home in Zwolle, but the staff also receives you with open arms in their sandwich store. Casa Zwolle can be found in the shopping street of Zwolle: the Diezerstraat. It is the ideal place to take a break during a shopping session.
Another place where you can have lunch in Zwolle is Proefiz. This sandwich store in Zwolle is also located on the Diezerstraat. At Proefiz, relaxation is highly valued. Therefore, take a seat at a table and the staff will be happy to help you. After you have chosen a dish, the cook will prepare it for you with love and fresh ingredients. After a good lunch in Zwolle, you can get back to work.