Arno de Boer is a Zwolle native
'Zwolle is a city with its own face'
Reading time 5
1130 x Views
Arno de Boer, together with partner Henk Schippers, runs five special catering businesses in Zwolle. They are all striking enterprises with a story. That certainly applies to grand café Staatsman in the former provincial government building on Diezerstraat. "This is really one of those places where you immediately have something to say. And that suits the character of Zwolle very well. This city has so much history and you can see it everywhere in the city. Zwolle is a city full of stories," says Arno de Boer. He talks about his bond with Zwolle.
"I was born in Emmeloord and grew up in Wijhe. Even there we were oriented toward Zwolle. Since I moved here in 1992, I never considered moving. Zwolle feels familiar: I know a lot of people, the city is very pleasant and its location super central. From Zwolle you can be in Groningen and Amsterdam in just over an hour. And then the surroundings of the city are also very beautiful. It is not for nothing that more and more people choose Zwolle for a weekend getaway. The city has become an attraction.
Atmosphere of previous centuries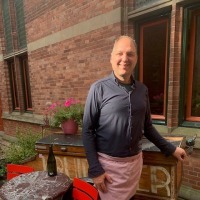 What I find very interesting about Zwolle is its history. You can still feel the atmosphere of previous centuries in many places. 'When you go shopping, look up,' I often say to our guests. You see beautiful facades in Zwolle and, of course, lots of historic buildings. That certainly includes the old Statenzaal in which Statesman is located. When I first walked into this historic building from 1898, I immediately fell in love. Members of Provincial Council used to meet here. Every detail in this building tells a story. From the stained glass windows in the grand café to the details in our coffee room.
Personal touch
A business like Statesman fits the development of Zwolle. It is wonderful to see what has happened in the field of hospitality alone. So many beautiful restaurants and special initiatives have been added. What I really like is that they are often businesses with a personal touch. That also applies to the stores. You can go anywhere for the big chains, but it is the smaller businesses that give a city its own face. And you'll find plenty of those in Zwolle. My advice is always: besides the big shopping streets, take a look at the side streets and backstreets. They are often surprisingly beautiful and you will find special stores. And do not skip the edges of the city. There too you will find special locations. Good example is the sculpture garden on the Anningahof Estate.
Hanseatic year
I think the surprising character of Zwolle is why people love coming here. You don't go on a weekend trip for the usual things. Many original and innovative initiatives arise in Zwolle. Just look at the activities in this Hanseatic Year. I find the exhibition of international artists in the former IJsselcentrale very special. Or the Hanse Expo in the Grote Kerk, where you have a wonderful view of Zwolle from the roof. Also fun: we are involved in 'Hans z'n bier' together with Koninklijke Horeca Nederland Zwolle and brewery Bohemean, among others. And you can taste it in many places in the Zwolle hospitality industry. That beer is part of a concept that also includes, for example, Hans z'n lunch and Met Hans op Stap. In this way, we as the Zwolle hospitality industry make the connection with the Hanseatic Year.
Doing business easily
That kind of collaboration is typical of Zwolle. Entrepreneurs grant each other something, which makes it very easy to do business. You don't have to do everything yourself. We ourselves work from our Engel Winkelcafé for example together with De Meisjes van Plezier or Hiawatha. We offer guests a unique Hanseatic experience with canal cruise, city walk and tasty food. As a Zwolle resident, you sometimes almost forget how beautiful locations like the Bethlehem church square, the Kerkplein or the city canal are. That certainly applies to me. We have not been out for the last six months because we were so busy preparing for Statesman. It's time for us to rediscover the city..."
Arno de Boer's Top 3
"For personal stores, you have to be on Sassenstraat. I think that is one of the nicest shopping streets in Zwolle. The Luttekestraat has a bit of the same character. I also enjoy shopping there or just walking through."
"My favorite restaurant in Zwolle might be bistro Bonne Femme in the Samuel Hirschstraat. You can sit there and eat delicious food. And very nice: the staff always recognize you. I really like that personal attention."
"During the corona pandemic I discovered how nice a city walk in Zwolle is. A tour along the city canal remains top notch. Then you pass so many beautiful places and wonderful buildings. And on the way, of course, get an ice cream at Salute."